Dr. Shane Snider Dentistry
We welcome you, from our family to yours!
Dr. Shane Snider Dentistry
We welcome you, from our family to yours!
GENERAL FAMILY & IMPLANT DENTISTRY SERVICES NEWCASTLE
At our dental practice, we serve patients from Newcastle with a focus on family and preventive dentistry. At our office we aim to educate our patients so that you can find out all your options in keeping your gums and teeth healthy for life.
We believe in gentle and consistent care. The dentists in Newcastle believe in treating all our patients like family. As owners of the practice, we believe in the importance of consistent care from a single dentist. The dentist-patient relationship is special and based on trust over time. With this in mind, our Newcastle dentists can ensure you are always comfortable seeing a familiar face and we are here to serve you and your children for years to come.
Our office believes in combining our gentle touch with patients and modern technology. We feature televisions in the ceiling of each treatment room, ipad and free wifi use and kids videogame area.
We are proud to offer on site dental implant therapy from start to finish for Newcastle patients. Our family owned dental office has over 25 years of experience in dental implant placement and full mouth reconstruction.Using the latest 3D digital technology we aim to provide teeth replacement options at an affordable rate in Newcastle.
Dr Mark Bishara, Dr Steve Margolian and Dr Sheri Margolian have taken extensive training in dental implant treatment. Our procedures include: Single tooth implant crowns, dental implants for retention of dentures, all on 4 implant denture retention, full mouth rehabilitation cases and immediate dental implants.
Some of modern features available from your dentist in Newcastle include:
Dental implant treatment start to finish on site
Dentistry for children of all ages
Invisalign invisible braces
Laughing gas & oral sedation
Digital 3D impressions
From our family to yours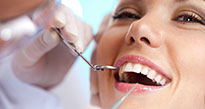 We are looking forward to hearing from you. Call us today at 905-655-6255.