Dr. Shane Snider Dentistry
We welcome you, from our family to yours!
Dr. Shane Snider Dentistry
We welcome you, from our family to yours!
MEET YOUR TEAM OF BROOKLIN DENTISTS
DR. SHANE SNIDER
Dr. Snider is dedicated to making a difference in his patients' lives by providing exemplary dental care. Before studying dentistry, Shane completed a degree in Psychology at York University. He graduated dental school in 2000 from The University of Western Ontario, in London, and soon after opened the Brooklin office in 2002.  His focus, from the beginning, has been catering to the needs of Brooklin families of old and new. Dr. Snider has extensive training in cosmetics, restorative, and family dentistry.
A member of numerous professional organizations including The Ontario Dental Association, The Royal College of Dental Surgeons of Ontario, and The Durham Dental Society, Dr. Snider has kept his clinical skills current through an ongoing commitment to continuing education courses. He knows that to be a good dentist it doesn't just require good technique, but it also it takes commitment, understanding, and most importantly, a genuine interest in patient health and safety.
When not designing youthful and healthy smiles for his patients, Dr. Snider enjoys time with his wife and their two boys.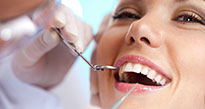 We are looking forward to hearing from you. Call us today at 905-655-6255.