Drs. Snider & Margolian Dentistry
We welcome you, from our family to yours!
Snider & Margolian Dentistry
We welcome you, from our family to yours!
Do you accept new patients?
Not only do we accept new patients but we also accept emergencies and walk ins. We encourage patients to book appointments ahead of time whenever possible so they have the least amount of wait time. Patients who are on ODSP and OW programs are also accepted.
If I have a dental emergency after hours, is there a dentist on call that can see me?
We always have a dentist on call 24/7 available to see patients if need be. We encourage patients to contact the office at 905-655-6255 so they can reach the dentist on their cell phone for emergency care after hours.
If I experience anxiety around a dental visit and/or fear of the dentist what can your office do for me?
We like to stress the importance of not letting anxiety/fear stop a patient from visiting the dentist for restorative work or cleanings. Dental anxiety is very common and we have many options available to make our patients visits more comfortable. Coming to the dentist isn't the easiest thing to do, but at Dr. Snider and Margolian Dentistry we offer a range of services to help calm our patient's nerves. We offer simple distractions like televisions mounted in the ceilings of each dental room, or sedation services to help our patients relax like laughing gas or sleeping pills (to be taken prior to the appointment).
I am unhappy with my current dentist in Brooklin and am looking for a new dentist, what makes Dr. Snider and Margolian Dentistry unique?
We are an owner operated local dental practice with Dr. Shane Snider as the primary dentist. Other dentists working at our office are his partner, Dr. Steve Margolian, and his part-time associate, Dr. Mark Bishara. When a patient is looking for a dentist they are likely looking for consistency in both who provides their care and in turn the quality of the care they receive. Our practice provides the comforts of knowing that at each visit our patients will always be seen by the dentist they have come to know and trust. As well, our patients should know that we use the latest technologies such as digital x-rays, digital impressions, and many other advanced technologies.
I don't have dental insurance, does your office allow for payment plans?
It's important for us to work with our patients to find a suitable financial arrangement as we know that finances can be a barrier to receiving the dental care patients need. If insurance is available, we are able to bill directly to an insurance company, but if not, based on individualized plans, we can provide our patients payment plans on a monthly withdrawal basis.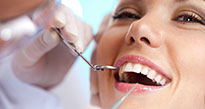 We are looking forward to hearing from you. Call us today at 905-655-6255.