Drs. Snider & Margolian Dentistry
We welcome you, from our family to yours!
Snider & Margolian Dentistry
We welcome you, from our family to yours!
Brooklin- Whitby PRF Therapy
At Drs. Snider and Margolian Dentistry our dentists use a special technique to speed up the healing process after surgical procedures, such as placement of dental implants, tooth extractions, and bone grafting or guided bone regeneration. The technique is known as Platelet Rich Fibrin (PRF) and involves placing a fibrin matrix made from the patient's own blood, taken during the time of surgery. Dentists have recently started incorporating this PRF Therapy into more natural and holistic approaches.
PRF is a rich source of growth factors, cytokines, and leucocytes, all of which enhance and improve the healing process, resulting in improved gum and bone healing in much less time. It's an ideal alternative to using foreign collagen material that comes from a bovine (cow) or porcine (pig) origin.
PRF Therapy may be new to dentistry but in other health fields it has been used to help professional athletes heal quickly after they undergo surgery for sports injuries. Our dentists have extra training in dental implant placement and performing grafting surgeries, and by using PRF Therapy as part of the treatment, it makes the procedure itself and recovery process much more comfortable for the patient.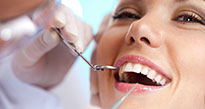 We are looking forward to hearing from you. Call us today at 905-655-6255.