Drs. Snider & Margolian Dentistry
We welcome you, from our family to yours!
Snider & Margolian Dentistry
We welcome you, from our family to yours!
I am interested in holistic dentistry, what is it exactly and do you provide it?
Holistic care refers to taking into consideration a patients entire well-being while providing oral health care. At Dr. Snider and Margolian Dentistry we always look to minimize the amount of exposure a patient has to foreign materials. Ways in which we do this are by using white fillings (free of amalgam), ceramic crowns and veneers (metal free), and digital x-rays (lower doses of radiation than traditional x-rays). In addition, preventative care is also emphasized such as;
Nutritional counselling – to prevent and possibly reverse degenerative dental disease
Removing toxic materials from materials used in dentistry
Preventing the occurrence of malocclusions/malpositions – which can lead to physical imbalances
Prevention and treatment of gum disease through regular gum therapy
How are ceramic and metal crowns different?
Originally crowns and bridges were made from porcelain fused to metal, but now they tend to be made entirely of porcelain or zirconia as the foundation, with a porcelain facing. A common problem with porcelain fused to metal crowns is that as the gums recede a black line from the metal can be seen. In crowns which are all porcelain there is no metal at all, meaning there is no risk of seeing this black line. As well, since there is no metal the risk for corrosion or chemical leakage is avoided. The zirconium oxide is bioinert and not a conductor. Research shows that all porcelain crowns are as strong as crowns with metal. At Dr. Snider and Margolian Dentistry, in order to ensure the perfect fit, we use the iTero 3D digital impression laser scanner.
What is Zirconia?
Zirconia is a type of biocompatible crystal material that is very strong and durable. It is also known to be stain resistant and a material that can withstand the test of time. For those reasons it has been used in modern medicine for other purposes like artificial joints. Other reasons medical professionals and patients alike are excited about using zirconia, instead of the previous porcelain fused to metal crowns, are because of its safety profile. There is no risk of allergies to the material or chance of the body rejecting the material. The advantages of using zirconia are;
Naturally occurring ceramic material that is free of metal
Has white tooth like appearance and is therefor preferred for aesthetic reasoning
Doesn't stain like the metal alternative so it's considered a more hygienic option
Is strong, biocompatible, and integrates well into surrounding bone à more success with implants
I have heard of something called PRF Therapy, what is it?
Platelet Rich Fibrin is a fibrin matrix that contains things which optimize the healing process such as growth factors, platelets, cytokines, and leukocytes. It is prepared from the patients own blood which can be taken during the surgery. It's used after dental surgeries to accelerate the healing process. By using PRF instead of collagen taken from bovine (cow) or porcine (pig), the healing that takes place is better and the healing times are much faster.  It's most often used after placing dental implants, bone grafting or guided bone regeneration, and extractions.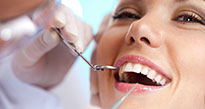 We are looking forward to hearing from you. Call us today at 905-655-6255.