Drs. Snider & Margolian Dentistry
We welcome you, from our family to yours!
Snider & Margolian Dentistry
We welcome you, from our family to yours!
REPLACING TEETH SAME DAY:
An existing denture can be made to be a fixed prosthesis, making it more stable and comfortable for the patient. In just one surgical appointment the denture is attached to implants that have been placed to make it secure.
SINGLE TOOTH IMPLANTS
If a patient is missing one tooth or several teeth implants are an ideal solution to replace the teeth. If the patient takes proper care of them they can last an entire lifetime. They enable the dentist to recreate the former tooth in the proper form, shape, and contour.
IMPLANT BRIDGE:
If a patient has several teeth side by side that are missing just a few implants are needed, not necessarily one for each tooth. An option that we offer that provides the patient with the same function and aesthetics as single implants is an implant bridge which splints the implants together.
IMPLANT RETAINED DENTURE
Patients with full dentures for each jaw tend to have issues with the fit and having the denture stay in place without using a lot of adhesives. As well, when bone loss continues to progress the fit of the denture changes. One way to resolve these problems is by connecting the denture to implants. With this solution patients are very pleased with the results, and are able improve their daily lifestyle and to feel better about themselves.
BONE AUGMENTATION
When a patient has a tooth missing for a prolonged time period they slowly lose bone volume, both in height and width. If an implant is desired after the tooth has been missing for a while, a bone graft, either from a synthetic or donor source, may be needed to increase the bone dimension at the site. Without proper bone volume the implant will not be able to integrate well into the bone, and the implant will not be successful.  
At Drs. Snider and Margolian Dentistry our dentists use a special technique to speed up the healing process after implants, bone grafting, or guided bone regeneration surgery. The technique is known as Platelet Rich Fibrin (PRF) and involves placing a fibrin matrix, made from the patient's own blood, taken during the time of surgery.
PRF is a rich source of growth factors, cytokines, and leucocytes, all of which enhance and improve the healing process, resulting in improved gum and bone healing in much less time. It's an ideal alternative to using foreign collagen material that comes from a bovine (cow) or porcine (pig) origin. The technique of PRF may be new to dentistry, but in other health fields it has been used to help professional athletes heal quickly after they undergo surgery for sports injuries.
All of our implants treatments are done in office from start to finish by our dentists to ensure the patient is completely satisfied.  Please call our office at 905-655-6255 or email us at info@drshanesnider.com to set up a free dental implant consultation.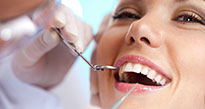 We are looking forward to hearing from you. Call us today at 905-655-6255.